On the path of the UNESCO monuments
1st day
Žďár nad Sázavou - Telč
In the morning the visit of Žďár nad Sázavou on the Bohemian-Moravian Uplands and especially of the Green Mountain (Zelená hora) with the Pilgrimage Church of John Nepomuk built by the architect Santini (protected by UNESCO since 1994). In the afternoon the continuation to Telč – the picturesque town surrounded by the ponds, with the castle and very well–preserved historic centre, all in the renaissance or baroque style. The visit of the castle and the main square where we can see the houses with the arcades (the historical centre of Telč is protected by UNESCO since 1992). The overnight in Telč
2nd day
Třebíč - Brno
In the morning the visit of Třebíč and its Jewish area and the romanesque-gothic basilica St. Procopius (protected by UNESCO since 2003). In the afternoon the visit of Brno and the villa Tugendhat built in 1930 by Míes van der Rohe in the functionalist style (protected by UNESCO since 2003), the overnight in Brno.
3rd day
Lednice-Valtice - Mikulov
In the morning the trip to the Southern Moravia, to the Lednice and Valtice historical area (Palava and Lednice-Valtice area protected by UNESCO since 1996), the visit of the neo-gothic castle Lednice and the adjoining parks with the system of canals on the river Dyje and with some romantic small buildings. In the afternoon the continuation to Mikulov – the picturesque small border town well-known thanks to its wine cellars, renaissance-baroque castle, giant wine-barrel and Jewish area (formerly the seat of Moravian Rabbi). The return to Brno through the biosphere area of Palava.
4th day
Kroměříž - Olomouc
The visit of Kroměříž - its baroque chateau with the picture gallery and the adjoining garden are protected by UNESCO since 1998. Afternoon the continuation to Olomouc – the former seat of the Moravian Catholic Archbishops, with the Bishop Palace that keeps its original appearance. The gothic and renaissance houses in the centre of the city, where we can also admire the Holy Trinity Column raised in the 18th century, nicely decorated with sacral statues (protected by UNESCO since 2000).The historical centre of Olomouc is officially recognised as a protected area. The overnight in Olomouc
5th day
Litomyšl
The visit of Litomyšl – the town with long culture tradition thanks to musical festivals, the town of the musical composer Bedřich Smetana. Walk through the picturesque square and the visit of the renaissance chateau from the 2nd half of the 16th century, the beautiful example of the chateau with the arcades with the strong Italy influence, the front with the unique sgrafittoed decorations on the façades and gables (the palace is protected by UNESCO since 1999).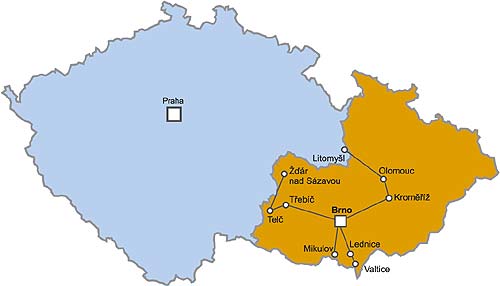 With this programme you can visit:
Brno, Kroměříž, Lednice-Valtice Area, Litomyšl, Mikulov, Olomouc, PÁLAVA, Telč, Třebíč, Žďár nad Sázavou,