Brno - Lednice/Valtice - Mikulov - Macocha - Slavkov (Austerlitz) - Telč - Prague
1st day
Brno
Arrival to Brno – guided sightseeing tour around the city centre including the Špilberk Castle, Old City Hall, Capuchin Tombs, New and Old Theatre, Cathedral of SS Peter and Paul, Art Nouveau Houses, pub Pegas, dinner at Špilberk castle restaurant. Overnight in Brno.
2nd day
Lednice-Valtice - Mikulov
Excursion to the Southern Moravia to the Lednice-Valtice Area (region protected by UNESCO). In Lednice visit of the neo-gothic castle, strolling in its gardens with fluvial canals, old minaret and artificial castle ruins of Jan Castle. Wine testing in the wine library Vinum Bonum in Valtice, a brief stop in Mikulov – sightseeing of its historical centre with a Jewish Ghetto (formerly the seat of Moravian Rabbí), and wine-cellars. Return to Brno through the biosphere region of Palava (protected by UNESCO). Overnight in Brno.
3rd day
Moravian Karst - Slavkov(Austerlitz)
Excursion to the Moravian Karst including the visit of Punkevní Caves with the boat ride on the underground Punkva River, Macocha Abyss. The Moravian Karst is the territory of lime-stone character extended on 100 km sq. In the afternoon the visit of Slavkov (Austerlitz) where took place the famous Battle of Three Emperors in 1805. The dinner at the Old Post-Office – the place where Napoleon Bonaparte spent the night on the eve of this battle. Overnight in Brno.
4th day
Telč - Prague
Excursion to Telč (historical renaissance town protected by UNESCO) – splendid chateau and renaissance square with arcades. In the afternoon leave for Prague. Overnight in Prague.
5th day
Prague
Prague – guided sightseeing tour - formerly defensive mighty tower (Prašná brána), Old Town Hall which boasts the famous Astronomical Clock, Cathedral of Our Lady of Týn, Jewish Synagogue (one of the oldest synagogues in Europe), Charles Bridge. Afternoon at leisure. Overnight in Prague.
6th day
Prague - Konopiště
Prague – guided sightseeing tour – Prague Castle, Loretta Square, St.Vit Cathedral, Golden Lane, Malá Strana (probably the most romantic quarter in Prague). Optionally the visit of the Konopiště Castle in the afternoon. (In its interiors you can admire world-famous collections of arms, trophies, porcelain and furniture and precious collection of statues dedicated to St. George compiled by the successor to the Austrian throne Franz Ferdinand d´Este.)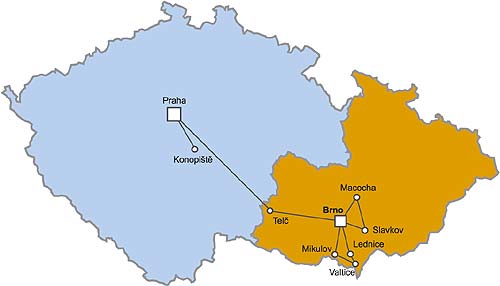 With this programme you can visit:
Brno, Lednice-Valtice Area, Mikulov, Moravian Karst, PÁLAVA, Slavkov (Austerlitz), Telč, The Cairn of Peace,