Staying at the spa resort of Luhačovice
Staying in the picturesque spa resort of Luhačovice which boasts of its marvellous geographical location and typical architecture of Dušan Jurkovič. The Luhačovice Spa is the most attended spa in Moravia with a tradition of more than 300 years. It is specialized in the treatment of respiratory system diseases, metabolic malfunctions and digestive tract problems. In Luhačovice rise 16 kinds of mineral waters and one sulphur spring, the most famous of them are: Vincentka, Aloiska and Ottovka. The Luhačovice Spa provides the following treatments: inhalation, baths in natural mineral waters, classic, reflex and underwater massages, drinking cure and hydrotherapy.
During the stay in spa you can make a lot of trips to the neighbourhood:
Vizovice - the visit of the village with the baroque castle and Jelínek distillery with the degustation of its famous liqueurs and spirits

Vsetín – the visit of glass factory, baroque church from the 18th century

Rožnov or Strážnice – open air museums with typical folk architecture and presentation of traditional folk art and handcrafts.

Zlín – the town constructed by Tomáš Baťa, the visit of the Museum of Shoes (the largest museum of shoe-making in Europe), the walk through the town with incommutable architectonic features

Kroměříž – historical city with fascinating chateau, picture gallery and adjoining gardens (protected by UNESCO)

Velehrad – the pilgrimage place with the Basilica of Cyril and Methodius
Hotels in Luhačovice - categories
Hotel PALACE ****
Hotel SMETANA ****
Hotel MORAVA ***
Hotel ADAMANTINO ***
Hotel VEGA(Pozlovice) ***SUP
We offer also the transfers to the airports in Prague, Vienna and Brno.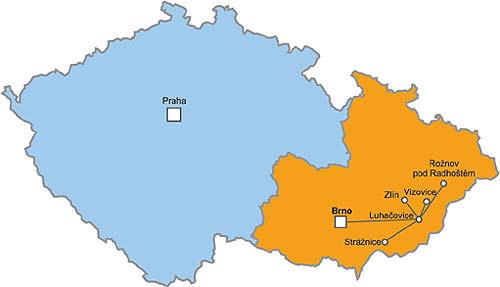 With this programme you can visit: