Brno - Lednice/Valtice - Mikulov - Znojmo - Telč - Bohemian-Moravian Highlands
1st day
Brno
Arrival to Brno – guided sightseeing tour around the city centre including the Špilberk Castle, Old City Hall, Capuchin Tombs, New and Old Theatre, Cathedral of SS Peter and Paul, Art Nouveau Houses, pub Pegas, dinner at Špilberk castle restaurant. Overnight in Brno.
2nd day
Lednice-Valtice - Mikulov
Morning trip to the Southern Moravia to the Lednice-Valtice Area (region protected by UNESCO). In Lednice visit of the neo-gothic chateau, strolling in its gardens with fluvial canals, old minaret and artificial castle ruins of Jan Castle. Wine testing in the wine library Vinum Bonum in Valtice. Afternoon stop in Mikulov – sightseeing of its historical centre with the castle and the Jewish Ghetto (formerly the seat of Moravian Rabbí). Overnight in Mikulov.
3rd day
Znojmo - Slavonice - Telč
Morning visit of Znojmo well-known especially thanks to white wines of its vineyards and also for its several national historical sights, e.g. the oldest preserved Romanesque chapel, a network of underground passages and a town hall with marvellous view of the town surroundings and the Dyje River. Afternoon stop in Slavonice – historical and artistic locality with representative examples of renaissance art – houses with fine sgraffito and gables (the unique complex of renaissance architecture - probably the best well-preserved in Czech republic).Leave for Telč (historical renaissance town protected by UNESCO) – visit of a splendid chateau and a renaissance square with arcades. Overnight in Telč.
4th day
Žďár nad Sázavou - Bohemian-Moravian Uplands
Full day excursion to the Bohemian-Moravian Highlands. Visit of the Pilgrimage Church of John Nepomuk on the Green Hill near Žďár nad Sázavou (church protected by UNESCO), then the castle and the Museum of Books in Žďár nad Sázavou. In the afternoon circuit through marvellous countryside and visit of the open air museum with typical folk architecture. Overnight in highlands hotel.
5th day
Pernštejn - Moravian Karst
Morning visit to Pernštejn Castle – one of the best preserved castles in the Czech Republic. In the afternoon trip to the Moravian Karst with the stalactite and stalagmite caves. The visit of Punkevní Caves with the boat ride on the underground Punkva River, Macocha Abyss. Overnight in Brno.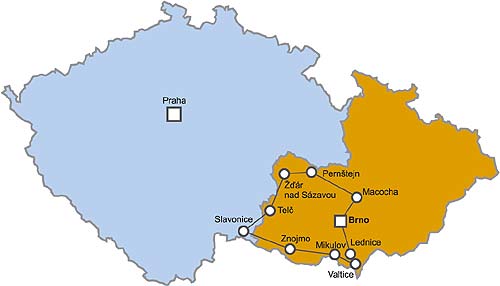 With this programme you can visit:
Brno, Lednice-Valtice Area, Mikulov, Moravian Karst, Telč, VYSOČINA (BOHEMIAN-MORAVIAN HIGHLANDS), Žďár nad Sázavou, Znojmo,