Brno - Vienna - Buchlov/Buchlovice - Slavkov (Austerlitz) - Luhačovice - Strážnice
1st day
Brno
Arrival to Brno – guided sightseeing tour around the city centre including the Špilberk Castle, Old City Hall, Capuchin Tombs, New and Old Theatre, Cathedral of SS Peter and Paul, Art Nouveau Houses, pub Pegas, dinner at Špilberk castle restaurant. Overnight in Brno.
2nd day
Wien
Full-day trip to Vienna – guided sightseeing tour including the Ringstrasse with its ostentatious sights – Opera-house, Museum of Fine Arts, Houses of Parliament, City Hall, National Theatre, Imperial Palace Hofburg and Belveder gardens with marvellous view of Vienna. In the afternoon – free time for shopping or optional excursion to the Schonbrunn Chateau. In the evening return to Brno. Overnight in Brno.
3rd day
Moravian Karst - Slavkov(Austerlitz)
Morning trip to the Moravian Karst including the visit of Punkevní Caves with the boat ride on the underground Punkva River, Macocha Abyss. In the afternoon visit of Slavkov (Austerlitz) where took place the famous Battle of Three Emperors in 1805. The dinner at the Old Post-Office – the place where Napoleon Bonaparte spent the night on the eve of this battle. Overnight in Brno.
4th day
Luhačovice - Buchlov - Buchlovice
Morning leave Brno for Luhačovice Spa. On the way stop to see the royal castle Buchlov dating from the mid- 13th century and Buchlovice - baroque chateau that is a beautiful example of spacious Italian palaces surrounded by French gardens. Free afternoon in Luhačovice. Overnight in Luhačovice
5th day
Luhačovice - Vizovice
Luhačovice – day off inviting you to stroll the colonnade with art galleries and to try the spa treatments. In the afternoon excursion to Vizovice – to its distillery - degustation of typical liqueurs and spirits made from plums, pears and sherries. Overnight in Luhačovice
6th day
Strážnice
Visit of Strážnice – the town internationally known for its annual International Folklore Festivals, cymbalon music and characteristic folk costumes and customs. Visit of the open air museum with the typical folk architecture. In the afternoon visit of the baroque wine cellars painted by hand in Plže including the wine testing.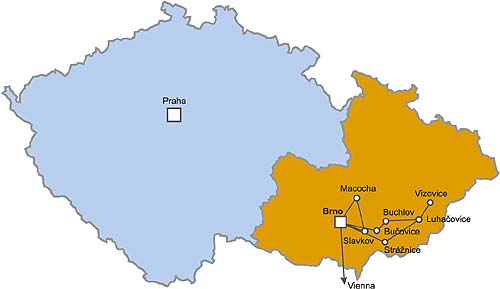 With this programme you can visit:
Brno, Buchlov, Buchlovice, Luhačovice, Moravian Karst, Slavkov (Austerlitz), The Cairn of Peace,